Gifts in Wills
Hansel Legacies
Leave Hansel a Gift in your Will
By leaving a gift to Hansel in your Will, you will help us to give each individual we support, today, tomorrow and into the future, the freedom to be heard, freedom of choice and the freedom to live the life they choose. You really can give the gift for a new beginning.
Also known as legacies, gifts in Wills are extremely important and help us to develop the services we provide and also fund capital projects.
Our vital work is filled with rewarding moments that truly give those we support the freedom to live the life they choose.  By leaving a gift in your Will to Hansel you can help us to keep delivering more rewarding moments for many more people in the future.
The Hansel Legacy
Hansel began in 1962 when co-founders Tom and Isobel Murdoch, whose daughter Lindy had been born with Down's Syndrome, were keen to see what could be done to help other parents who had concerns for the future of their children who lived with a learning disability. The Murdochs were inspired by the work of Professor Tizard who, in the late 1950's, had demonstrated that children with learning disabilities realised their potential better in a more natural, domestic setting than in the hospital environment which was common practice at the time. When the Broadmeadows Estate near Symington came on the market they seized the opportunity to establish this model of care in Scotland. Broadmeadows was bought in 1962 and in early 1963 Hansel was established as a Scottish Charity.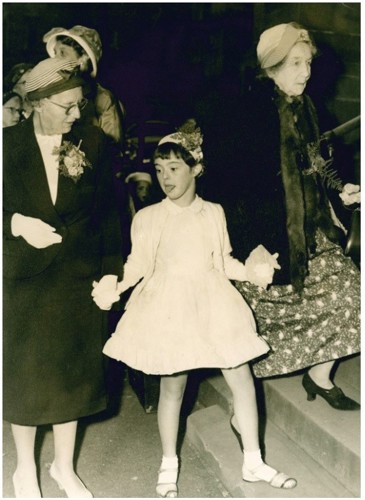 The Murdochs chose the name Hansel, an old Scots word meaning a gift for a new beginning, as this was their gift to other families in the same position as themselves. And so Hansel began, and from supporting six young people in its first year, the organisation now provides a range of flexible and innovative supports designed and delivered in a truly person-centred way for around 650 individuals living with a learning disability or autism.
Tom and Isobel, were determined that Lindy should have the best possible opportunity to enjoy a full and meaningful life and have security in the future when they would not be there to care for her. They truly gave her, and everyone we have supported in the past and will support in the future, a gift for a new beginning.  Their legacy lives on in everything that Hansel does.  We continue to support people with learning disabilities to make the most of life; to support people in flexible and innovative ways suited to their changing needs, and to walk with people on their journey through life helping them to find solutions to the challenges along the way.  We continue to support people as Tom and Isobel Murdoch wanted Lindy to be supported - this is their legacy.
How to leave us a gift in your Will
Leaving a legacy gift is an important decision, but it doesn't have to be complicated. A legacy allows you to state that, after you die, a particular part of your estate be given to a person, charity or organisation. It could be a fixed sum of money, a named item such as a piece of jewellery, furniture, or property or it could be the remainder of your estate once all your commitments and gifts to family or friends have been attended to.
Many people are put off writing a Will because they think they are too young to have one or they find the idea scary. Writing your Will is about planning for the people you care about most in the world, when you're not here. It is easy to organise with the help of a solicitor who will guide you through the process. When you are making a Will, your first priority will be to look after your family and friends first. After that, you may feel you want to leave something to your favourite charity.
If the time is ever right for you to remember a charity in your Will, please remember Hansel. Whatever your gift, regardless of size, you truly can help give the gift of a new beginning to others.
We rely on people like you choosing to remember Hansel in their Will so we can continue to give each individual we support, today, tomorrow and into the future, the freedom to be heard, freedom of choice and the freedom to live.  A gift in your Will is so important to our work - not just now, but for many years to come.
If you would like more information or to discuss leaving Hansel a gift in your Will please give us a call on 01563 830340.